Are you searching for the finest electric bicycle available in the United Kingdom? With the increasing popularity of e-bikes, it can take time to determine which model best fits your needs. We'll comprehensively review the top five electric bikes in the UK. We'll delve into the features and specifications of each model to help you make an informed decision. Whether you're looking for an e-bike for commuting, leisure, or adventure, we've got a range of options to suit your needs. So, relax, and let's dive into the world of electric bikes!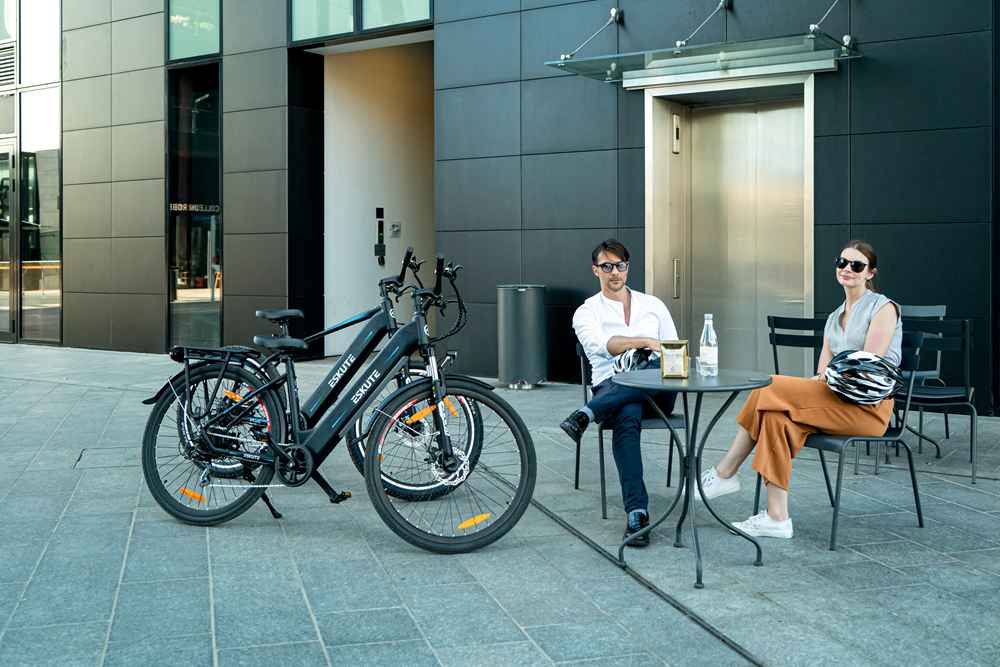 Types of Electric Bikes
There are numerous electric bike models available in the market. Including:
City Bikes: These are designed for commuting and are generally lightweight, with a step-through frame for easy mounting.
Mountain Bikes: Mountain e-bikes have wider tires and full suspension to handle rough terrain, making them ideal for off-road adventures.
Folding Bikes: Folding e-bikes are perfect for those short on storage space. They are compact and easy to store in small apartments, offices, or vehicles.
How do I choose the right electric bike for me?
When looking for the best electric bike in the UK, there are several features to consider, including:
Battery Life: The battery life and range of an electric bike can vary greatly, so it's important to choose a model that meets your needs.
Motor Type: The motor is the heart of the electric bike, so it's important to choose a model with a reliable motor that will provide the power and speed you need.
Suspension: Suspension is important if you plan on taking your electric bike off-road. Look for models with full suspension or front suspension to absorb shock and improve stability.
Price: The price range for electric bikes can vary greatly, ranging from a few hundred pounds to several thousand. Therefore, it is crucial to select a model that aligns with your budget.
Best electric bike UK
The Star City Electric Bike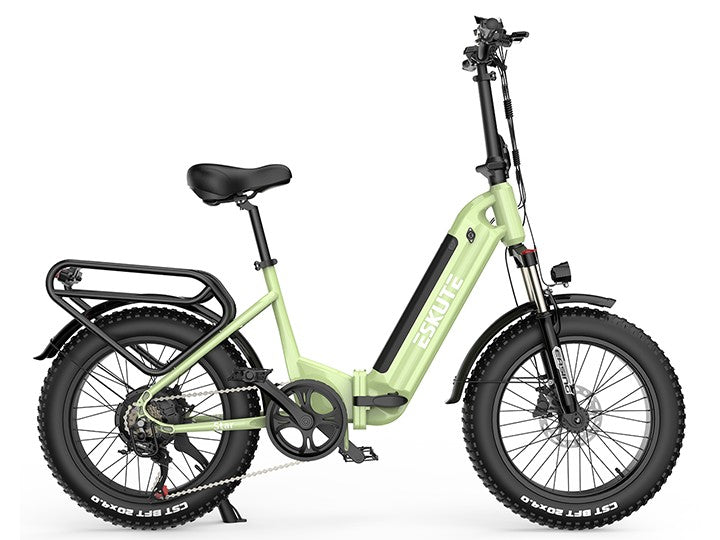 The Star City Electric Bike is a great choice for anyone looking for an efficient, comfortable, and eco-friendly mode of transportation. With an impressive range of up to 65 miles on a single charge, this bike is a great option for commuting or leisurely rides through the countryside, surpassing many other electric bikes available on the market.
At a maximum speed of 15.5m/h, the Star City Electric Bike can help you to reach your destination quickly and efficiently. The powerful 250W brushless rear hub motor provides smooth, reliable power, while the torque sensor ensures that the bike responds precisely to your pedalling effort. You have the option to select from five different levels of pedal assist, giving you the flexibility to adjust the level of assistance to your liking, allowing you to make your ride either easier or more challenging.
The bike is equipped with a Shimano 7-speed transmission system, which offers a wide range of gears for different riding conditions. The hydraulic brake system provides reliable stopping power, while the front suspension ensures a smooth ride over rough terrain. The 20 x 4.0" tires provide excellent traction and stability, while the fenders and rear rack come pre-assembled, making the bike easy to set up and use right out of the box.
The Polluno PLUS Electric City Bike.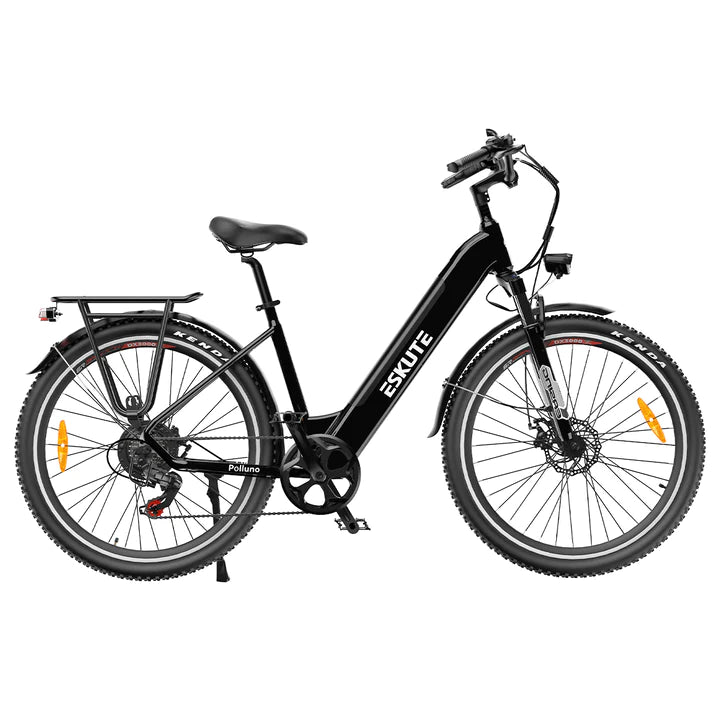 Equipped with a powerful 250W Bafang G010 rear hub motor and torque sensor, this bike provides smooth and efficient pedal assistance at five different levels. With a top speed of 15.5 miles per hour, you can easily keep up with traffic while cruising through the city streets.
The Samsung 36V 20Ah battery boasts an impressive range of up to 80 miles, making it an ideal choice for longer rides or commutes. And with a charging time of only 7-8 hours, you'll be back on the road in no time. Weighing in at 25kg and with a load capacity of 125kg, the Polluno PLUS Electric City Bike is both sturdy and versatile. The E-bike is equipped with mudguards and a pannier rack, making it effortless to carry groceries or other items during your ride.
And at a price point of just £1399, this bike is an affordable option for anyone looking to switch to an eco-friendly and convenient mode of transportation. Whether you're commuting to work, running errands, or just out for a leisurely ride, the Polluno PLUS Electric City Bike has everything you need to make your journey smooth, comfortable, and enjoyable. Experience it firsthand and discover why it's gaining traction among avid electric bike enthusiasts.
Netuno PLUS E-Mountain Bike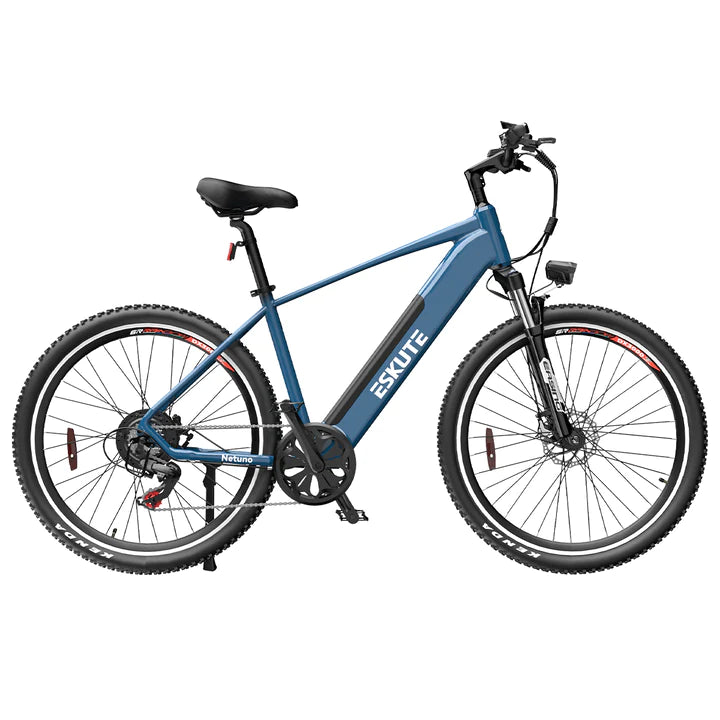 The Netuno PLUS E-Mountain Bike from Eskute is a top-performing electric bike that is perfect for adventurous and thrill-seeking riders. It comes with a powerful 250W Bafang G020 rear hub motor that delivers excellent torque and an impressive top speed of 15.5mph. The bike's torque sensor provides a smooth and responsive pedal assist, while the 1-5 levels of assistance offer a customizable riding experience.
The Netuno PLUS has a lightweight yet durable frame that can support a maximum load capacity of 125kg, making it perfect for riders of all sizes. The bike weighs just 25kg, which is relatively light compared to other e-mountain bikes in the market. Although this bike has many great features, it's important to note that it doesn't come with fenders or a rear rack, which may be a downside for some cyclists. Nevertheless, you can easily solve this issue by purchasing additional accessories from a variety of aftermarket options available in the market.
Overall, the Netuno PLUS E-Mountain Bike from Eskute is a high-performance electric bike that is perfect for off-road adventurers. It offers excellent features, impressive battery life, and customizable riding options that cater to every rider's preferences. At a price point of just £1199, it offers excellent value for money and is worth considering for anyone looking for a reliable e-mountain bike.
Polluno Pro Commuter Electric Bike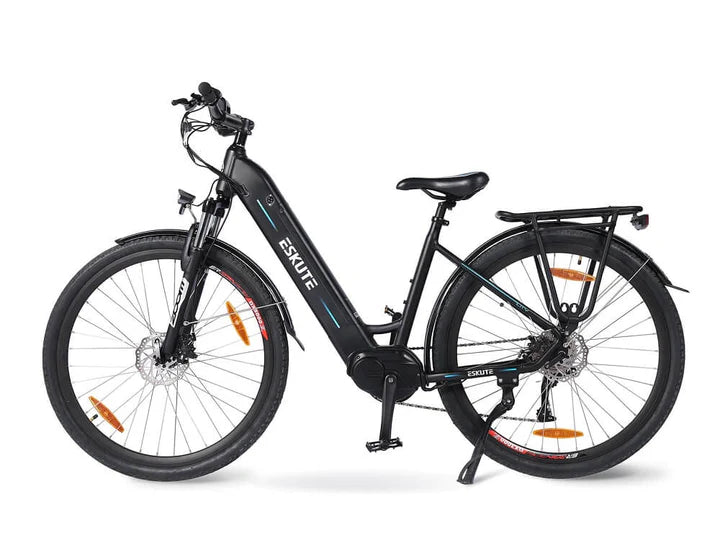 With its powerful 250W Bafang M200 Mid Drive motor and torque sensor, this bike provides a smooth and efficient ride, making it perfect for daily commutes or weekend adventures.
The bike's transmission system is also noteworthy, boasting nine speeds that make it easy to tackle any terrain. The mechanical brakes and front suspension with lockout provide added safety and control while riding, and the assembled fenders and rear rack make it easy to carry your belongings with you on the go.
No need to rewrite this sentence as it is already well-written. The Polluno Pro Commuter Electric Bike is a reliable and efficient option that is sure to meet your needs. At a price point of £1799, it may be a bit of an investment, but the quality and features make it well worth it in the long run.
if you're in the market for an electric bike that can handle your daily commute and more, the Polluno Pro Commuter is definitely worth considering. With its powerful motor, long battery life, and advanced features, it's a top-of-the-line option that is sure to provide you with a smooth and enjoyable ride.
Netuno Pro Electric Mountain Bike
For those seeking to elevate their off-road experiences, the Netuno Pro Electric Mountain Bike presents itself as a stylish and robust option. With a 250W Bafang M410 mid-drive motor and torque sensor, this bike provides excellent power and control on even the toughest terrain.
The Samsung 36V 14.5Ah battery provides an impressive range of up to 80 miles, allowing riders to explore for longer without worrying about running out of power. And with a 9-speed transmission and mechanical brakes, this bike offers precise control and handling in any situation. The front suspension with lockout feature makes for a smoother ride, even over rough terrain, and the Kenda 27.5" x 2.1" tires offer excellent grip and stability.
While the Netuno Pro does not come with fenders or a rear rack, its sturdy build and 125kg load capacity make it an excellent option for those who need to carry heavier loads or tackle tougher trails. At a price of £1899, the Netuno Pro is a solid investment for any serious mountain biker. Whether you have years of cycling experience under your belt or are just starting out, the Netuno Pro Electric Mountain Bike provides the ideal combination of strength, handling, and dependability to elevate your biking experience. So why wait? Invest in the Netuno Pro today and start exploring all that the great outdoors has to offer!
FAQS
Q: How long does it take to charge an electric bike battery?
A: The charging time for an electric bike battery can vary from model to model, but it typically takes between 3-6 hours to fully charge a battery.
Q: How long does the battery last on an electric bike?
A: The battery life of an electric bike varies depending on the specific model, as well as factors such as the rider's weight, terrain, and level of pedal assist. Typically, a fully charged battery can last anywhere from 20 to 80 miles, depending on the bike and the conditions.
Q: Can I ride an electric bike in the rain?
A: Yes, you can ride an electric bike in the rain, but it's important to take precautions to protect the bike and ensure your safety. Make sure the bike is equipped with fenders and a good quality waterproof cover, and wear appropriate clothing and gear to stay dry. Avoid riding in heavy rain or flooded areas, and take extra care when braking and turning.
Q: Do I need a license to ride an electric bike in the UK?
A: No, you do not need a license to ride an electric bike in the UK as long as it meets certain requirements. The bike must have pedals and a maximum power output of 250 watts, and it must not be able to go faster than 15.5 miles per hour. If the bike does not meet these requirements, it may be classified as a motor vehicle and require a license, insurance, and registration.
Overall
The Eskute electric bike line offers a range of options for riders looking for a reliable and affordable e-bike. Regardless of whether you're on your way to work or seeking adventure on off-road trails, there is a model to fit your needs. With features like Shimano transmissions, Kenda tires, and Samsung batteries, these bikes are designed to provide a smooth and comfortable ride with plenty of power and range. And with the added convenience of pedal assist, riders can enjoy longer rides and tackle more challenging terrain with ease.
If you're currently considering purchasing a new electric bike, be sure to check out the skate line and find the perfect model for your needs. And remember to always ride safely and follow local laws and regulations to ensure a fun and enjoyable ride every time.