Navigation
How to distinguish and compare the characteristics of the tyres
In the jungle of ebike tyres, there are countless different versions. So that you don't lose sight of the path in front of all the tyres, we have briefly summarised the different types of tyres and for whom they are best suited in this blog post.
The City Tyre
The city e-bike tyre has a less-build-up tread and is ideally suited for everyday rides due to its large contact surface between tyre and road. This gives you the best grip on asphalt. On the other hand, these tyre profiles do not cope so well with snow and unpaved roads. These tyres are best suited for everyday trips to the supermarket, doctor's appointments or through the city.
The Touring Tyre
The Touring tyre is very similar to the city tyre. Its tread is slightly deeper than the one mentioned above, but still smooth enough to maintain a large contact area with the ground. It feels most comfortable on asphalt, but paved forest paths are also no problem for it. Thus, the touring tyres are also well suited for everyday rides, but also for the daily commute to work.
The Trekking Tyre
Trekking e-bike tyres are known for covering many kilometres and often travel the whole world with you. As all-rounders, they try to deliver a compromise between rolling resistance and puncture protection. Their tread is much more pronounced than city tyres and is therefore perfectly suited for gravel and forest paths.
Nevertheless, their tread is less pronounced than that of a mountain bike tyre, so as not to create too much rolling resistance on asphalt. This makes the trekking tyres perfectly suitable for your next outing.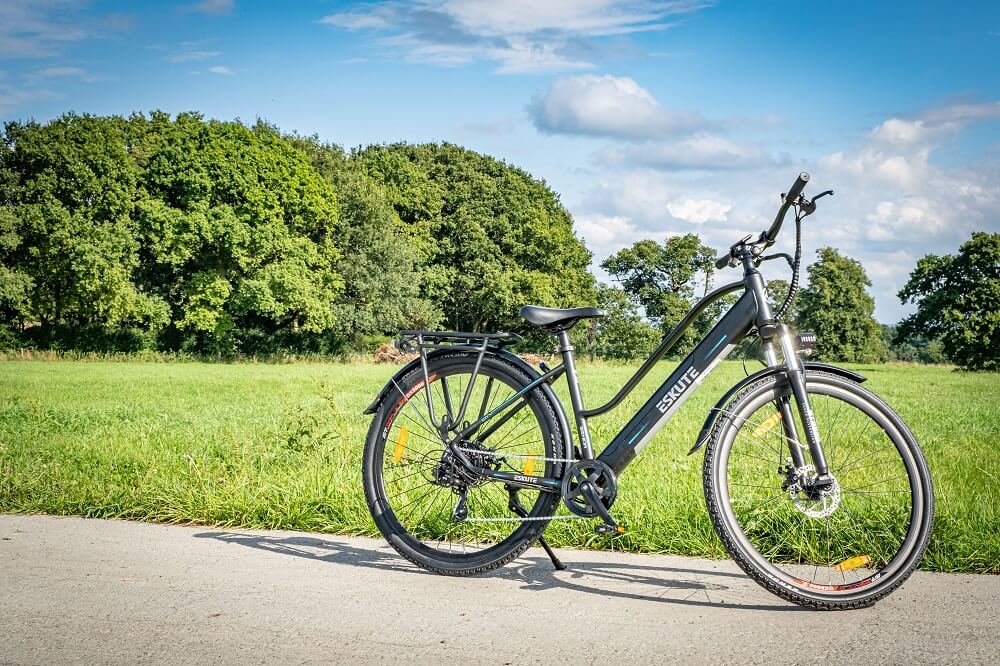 The Gravel Tyre
The sporty gravel e-bike tyres are also versatile. Due to the wider width of the tyres compared to the e-road bike and their large air volume, they absorb road shocks with ease. This makes for a more comfortable ride and easier wheel control. They thus inspire confidence and safety in the electric bikes riders, who sometimes wants to leave the paved roads.
The Mountain Bikes Tyre
Mountain bike tyres are designed for the trails of this world. With their lug tread, these e-bike tyres offer the rider a secure grip on unpaved roads. Wider tyres usually roll better than narrower ones, but this point is often put into perspective by the higher weight of mountain bike tyres. In addition, the lugs contribute to significantly higher rolling resistance. This tyre works best on hard, dry terrain because the lugs are very close together.
The Enduro Tyre
True to the motto "You can't choose the weather - but you can choose the tyres!", Enduro tyres offer an optimal alternative to riders who hit the trail in all weathers. With their coarser, widely spaced lugs, the tyres have the ability to shed dirt as you ride without creating a large layer of dirt between the tyre and the ground. So for all adventurers who like to ride through snow and mud, these tyres are a good choice.
Conclusion
In summary, it can be said that there is a suitable type of tyre for every intended use of electric bikes. Looking closer, there are even significantly more tyres to discover in the individual categories, as the manufacturers have brought hundreds of different e-bike tyres onto the market. In addition, the correct air pressure and tyre width are also important for a perfect riding experience. Also you can get more idea about what tyre size you need for your electric bike.
If it's hard for you to make a choice between so many tyres, don't worry! Our experts at ESKUTE Electric Bikes already found the perfect match tyres for electric bikes, click and visit our store to find more possibilities for riding.