Introduction
Thrilling and speedy electric bikes like Voyage Mountain Electric Bike that ease the exploration of the most challenging trails are getting more traction by the day. As incredible as they are, there is still the ever-present risk of bike theft and more major damage by these bikes' speed.
With the usually not-so-small amount that these bikes go for, it is, without doubt, a good practice to know how to secure your asset. While it is true that most of these electric bikes come with warranties, there is only so much a warranty can cover, unlike, say, insurance.
This article will discuss everything about getting total protection for your bicycle with electric bike insurance. From ensuring your bike to claiming the insurance when needed, this article contains the answers to your questions on this topic.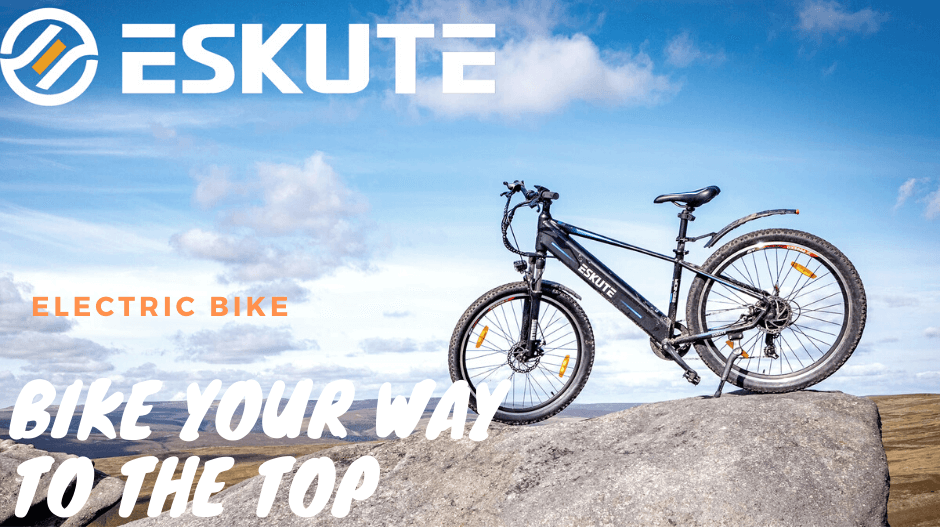 Can you get insurance on an electric bicycle?
Sure, you definitely can get insurance on an electric bicycle. Most home, auto, and renter insurance do not include electric bikes in their policy like they do with an ordinary bicycle. Instead, they offer stand-alone electric bike insurance.
Though the packages can differ from company to company depending on your electric bike specifications and other factors, you'll not run out of options when and if you need to get insurance on your e-bike.
What about electric bicycle warranties?
Warranty is a sure-fire way to bet on the durability of any product, and e-bikes are not different. Manufacturers like Eskute offer a 2 years warranty on their e-bikes, while some manufacturers tell you to purchase a warranty on their product. Either way, a warranty is an excellent buffer to have in case your e-bike does not meet up with expectations.
It should be noted that warranties vary and are very limited compared to ebike insurance. Lastly, ensure you read the full warranty policy of any bike to know what they cover and the duration.
Why do you need insurance for your electric bicycle?
As much as the law and cyclists like to downplay the speed of electric bikes, the fact is, they are pretty fast. And unsurprisingly, accidents can happen at any time.
Also, some countries and states require you to have insurance on your e-bike before you can hit the bike trails, while it isn't needed in some. However, irrespective of what the law states, the ever-present risk of accidents and subsequent damages makes ebike insurance a good-to-have policy.
Aside from the fact that ebike insurance is usually cheap, below are some reasons you need to get insurance for your electric bicycle.
Cover bicycle theft and accidental damage
There is always the risk of accidental damage to your electric bike now and then. If you don't want to go about spending big bucks on repair or replacement of parts, you need to consider going for electric bike insurance.
Also, theft is sadly still a rampant part of the cycling culture. Hence, you can seldom guarantee the safety of your shiny, speedy machine, especially in public places. With ebike insurance, you can rest assured that you are covered if an unfortunate situation ever happens.
Public liability cover
At times in accidents, there are two parties involved. You might damage someone else's property, requiring a large amount of money to repair. With the right insurance policy, you get liability coverage on any third-party properties that get destroyed in an accident.
Personal injury cover
Injuries are almost inevitable in electric bike accidents, even when using the right gadgets. Without insurance, you'll not only spend money to repair your damaged bike and other third-party things you might have damaged, and you might as well need to spend a considerable amount on treating yourself.
However, with an intelligent policy, your treatment expenses will be taken in case of serious injuries, and you only worry about getting back to total health.
What doesn't electric bicycle insurance cover?
The electric bike insurance might sound like a generous policy that allows bikers a freeride on anything that happens to their bike. But, like other insurance policies, there are some things it does not cover.
These things vary from one company to another and depend on your package. However, some are generic. Below are some of the standard exclusions you can expect
Inability to provide proof of ownership.

Accidents occur when you are under the influence of alcohol or drugs.

Cosmetic damages that do not hinder the machine from working well.

A theft occurs due to carelessness or failure to secure the bike properly.

Accessories damage like a headlight.

Self-inflicted damages, like pushing your bike down in anger.

Your bike was stolen after being parked for more than 12 hours in a public space.
Factors to consider when subscribing for insurance for electric bicycles
There are many companies offering e-bike insurance policies with different packages available. There are custom packages tailored to your riding style and other factors in most companies. However, some things should never be left out irrespective of the packages.
Below are some of the factors you need to consider before subscribing to electric bike insurance.
Theft insurance
The concern of possible theft is always there for cyclists. Not the least is the relative ease with which a bike can be carried and moved with other means of transportation. That's why most insurance companies offer e-bike theft insurance.
It is crucial if your bike is pricey. However, theft insurance will not cover carelessness, such as failure to lock your bike. But if you can prove that your lock was broken or picked up or stolen your bike in a secured place at home, then insurance will cover the replacement cost.
Personal medical insurance
The right insurance package should cover your medical bills for severe injuries sustained from accidents on your bike. However, the keyword there is "serious injuries", as you are unlikely to get any compensation for a few bruises and scratches.
This personal medical insurance is essential with the severity of injuries sustained from accidents on the electric bike. If the unwanted ever happens, you'll at least get solace from the fact that you are covered by insurance.
Third-party liability insurance
Third-party liability insurance is another policy that should make up your e-bike insurance package. It helps you cover the damages done to someone's property in an accident. Sometimes, these damages can be expensive, and you take advantage of this benefit on your insurance policy.
Accidental damage
It is probably the most important of all the factors you need to consider before committing to an electric bike insurance policy. It is the most frequent of occurrences and must be a part of your package.
Accidental damage insurance covers the repair or replacement of parts that get damaged accidentally. Although not all parts are usually covered in this, rest assured that it covers all essential parts to your electric bike working well.
How to purchase an electric bicycle insurance policy
With everything now digitized, purchasing an electric bicycle insurance policy is as simple as it can be.
The first step is to go to the official website of the insurer. Most companies provide you with either speaking to an agent to make inquiries or feel a form to register.
Part of the registration requires you to fill in information such as your postal code, the type of bike you want to insure, your bike's present value, the crime rate in your area, whether you use the bike for financial benefits, and your cycling habits. All these will be used to get you your quotation, after which you can proceed to register.
Then, you'll be asked to decide your payment style, which is usually monthly or yearly. Lastly, some companies will mail you your certificate, while some require you to show up for further documentation and verification. With this, you have gotten your electric bike insured, and you are ready to hit the road for your next ride.
Note: You need to read and understand what your policy entails before you pay, as there might be no going back after.
How to file an electric bicycle insurance claim
Filing an e-bike insurance claim is pretty easy but can become a nightmare if you do it wrong. Insurers want a no-nonsense claim, and, as such, it is imperative you know the ropes before you decide to file a claim to prevent rejection and stress.
Foremost, you need to gather documents that can prove the damage or theft of your bike as the case may be. Below are some of the standard documents requested by insurance companies
Police report: This is important in the case of theft. Immediately you notice your bike missing, and you need to get the appropriate authorities involved. After proper documentation by the police, you should ask for a copy of the report as it is an essential document in your claim. However, some insurers allow you to initiate a claim after informing the police but have yet to get the police report.
Detailed Photos: In the case of theft, you need to provide clear photos of the damaged locks or other security devices used to secure your e-bike. For damages, you must provide images of your bike and the areas damaged. You are also expected to include pictures of damaged riding gadgets such as helmets if you have them.
Well-documented write-up on the occurrence: You need to explain all that happened and how it happened. It is expected in the case of damage and theft. It should include details such as the date of the accident or theft, location, time, and other individuals involved.
Receipts: For cases of theft, you will need to include copies of receipts of your electric bicycle and the security devices used to secure it. In the case of damages, you need to include copies of receipts of your riding gadgets and your bike.
Repair estimate: This is not a requirement for some insurance companies. In some cases, you will need to take your damaged bike to a nearby registered bike shop to get a repair estimate or damage assessment report. This detailed report will be part of the claim, and the company will take it from there. However, some companies do not accept this. Instead, they send over an expert to carry out the damage assessment.
After submitting the documents above, your insurer will process them and take the necessary action. It takes about ten working days in some companies and can be more than some.
How easy is it to submit an electric bicycle insurance claim?
Submitting your electric bike insurance claim should be easy, provided you have all the documents above. In most cases, you only need to upload those documents online via the insurer's claims page and wait for a response.
However, you might need to take the documents to the onsite office to submit them for some companies.
Lastly, most companies do not take time before they process your claim. Some do it within two weeks, and others a little over that. All in all, it depends on your insurer and how fast you can get the required documents ready.
Tips to prevent electric bike theft and damage
As most cyclists attest, theft and damage are inevitable parts of the game, especially for expensive and speedy bikes like electric bicycles. However, there are ways to reduce the chances of either to the degree that will make you a bit more confident.
Below are some tips to prevent your electric bicycle from being stolen
Use Sturdy Locks and Alarms: In most cases, bikers prefer to use one or the other. However, the safest thing to do is to use the two together. Also, it is not enough to use just any lock and alarm. You should invest in high-quality ones that are sure to put up some resistance against even the most innovative bike thieves.
The more the locks, the safer: The number of locks used to secure your bike goes a long way to determine how fast a thief can steal it. No matter the strength and quality of the lock, it only takes a few minutes to break them with some of the modern cutting devices. Hence, you should use more than one lock and use them strategically.
Parking Location: The location where you park your bike is a significant determinant of its security. You should never park your electric bike in private streets or corners. Such locations are always devoid of people, and it gives a thief as much time and privacy as needed to break your locks.
In addition, if you are parking at night, you should never park in a dark location. Always park in a well-lit place. Lastly, always take that option if there is an opportunity to take your bike inside with you.
4. Be creative in your security: Being creative might not require expenses such as hiding a GPS device somewhere on your bike. You can disguise your bicycle with some old-school pickup baskets at the front, print some form of creative logos like GPS or Alarm and place it somewhere visible, or go berserk by locking all parts of your e-bike to the frame separately.
All these will help scare away thieves even before getting to your bike. Finally, you should never park in the same spot if you frequently go to a specific location. Doing this might catch the attention of thieves.
Stick to bike trails: Just because you have an expensive and fast e-bike should not tempt you to rival vehicles for speed or space. Always stick to paths and lanes recommended for bikes and cycle safely to prevent an accident.
Use a bike rack to transport your bike: At times, you might need to transport your bike to some faraway trails. It is not a good practice to force your bike to the backseat of your vehicle or tie it up to the roof or back of the car.
It's more likely to cause a dent two to your bike, and in worst cases, your bike might fall off on the road leading to severe damages. The best practice is to get a quality bike rack to secure your bike for transportation.
Conclusion
We have come to the end of this extensive guide on electric bike insurance. This article touches on all the various aspects of e-bike insurance and shows it to be your best bet to secure not just your bike but yourself to some extent.
Lastly, we spiced it up with extra tips on preventing bike theft and damages. All you need to do is get a trusted e-bike insurance company and get your electric bike covered!