Navigation
There has been a lot of evolution in the biking industry in recent years. Among the best innovations are electric hybrid bikes that combine a bit of everything.
Whether you are a regular commuter or a leisure rider, a men's electric hybrid bike is an ideal vehicle to own due to its versatility. You get more value when you opt for an electric hybrid bike instead of a regular one.
In this post, you'll find all the info about men's electric hybrid bikes you need to know, including some of the best options in the market.
What Are Men's Electric Hybrid Bikes?
A men's electric hybrid bike is a hybrid bike that is equipped with an electric motor that makes cycling easier. Essentially, an electric hybrid bike for men has the characteristics of an electric mountain bike and commuter bike.
These bikes feature a slender design with flat handlebars for better riding posture and control. Because their tires are a bit fatter and larger than regular bikes, you can drive them both on rough and smooth roads.
Additionally, most electric hybrid bikes feature an on/off switch. You can turn off the electric motor and use the hybrid bike as a pedal-only bike.
With the electric motor, it is possible to travel longer and faster. However, the maximum speed of a pedal-only hybrid bike varies from 11 to 18 mph, depending on its design, which makes electric hybrid bikes a viable alternative to regular cars. They are an excellent choice if you require an eco-friendly vehicle that travels fast.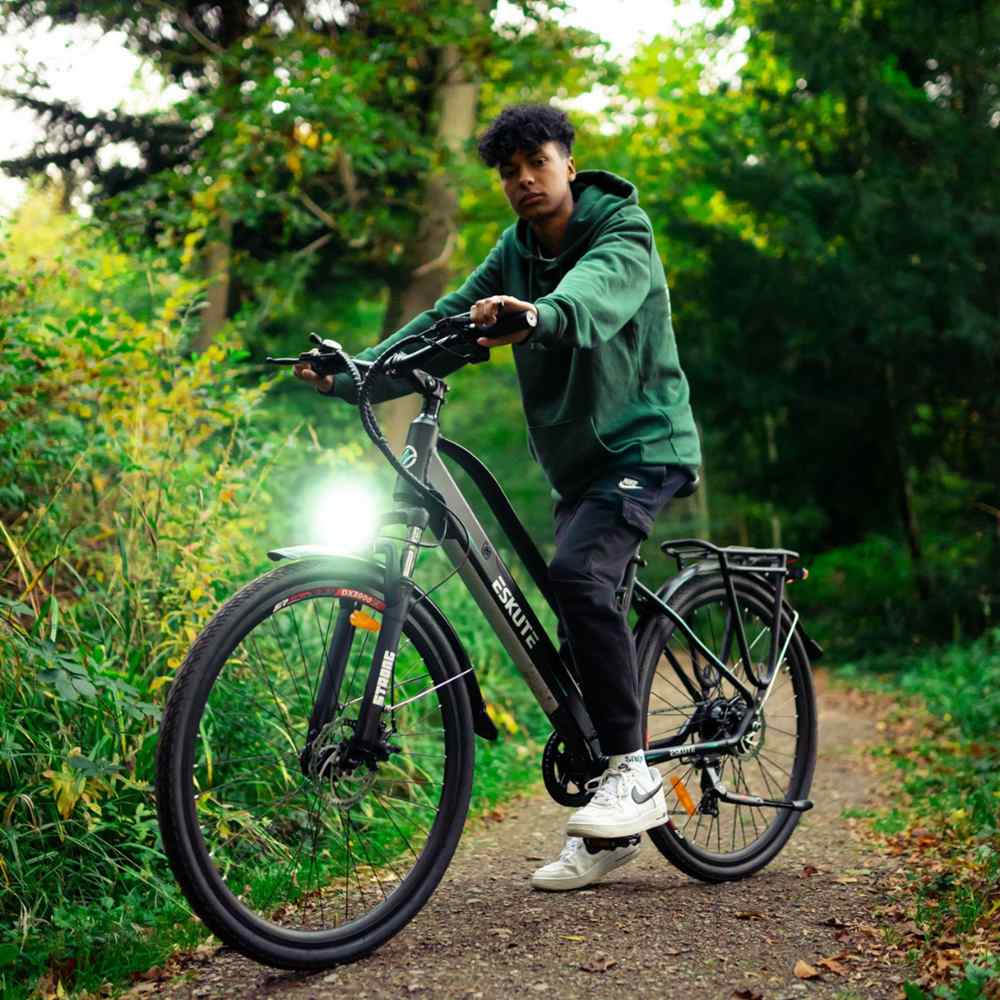 Are Men's Electric Hybrid Bikes Better?
The men's electric hybrid bike has many benefits, making it a great buy. For one, they have features of both commuter and mountain bikes, making them flexible. Do you need a bike for everyday movement or leisure? These bikes have you covered.
Another advantage of an electric hybrid bike is assisted pedalling. You won't need to pedal as much as you would on a regular bike, yet you'll go faster. With this, there will be less stress on your thighs and knees.
Due to their lightweight frames, electric hybrid bikes are easy to control at maximum speeds. The flat handlebars give you better visibility and manoeuvrability that you would not get on a traditional bike.
As mentioned before, these bikes are worthy alternatives to regular vehicles. Rather than purchase a motor vehicle, you can save money by getting a men's electric hybrid bike. The bike's batteries are more affordable than fuel and diesel and last for miles before depleting.
However, these electric hybrid bikes also have some cons. One is that they may be difficult to control at high speeds, which is why the UK and some other countries have rules for e-bike usage.
Best Men's Electric Hybrid Bikes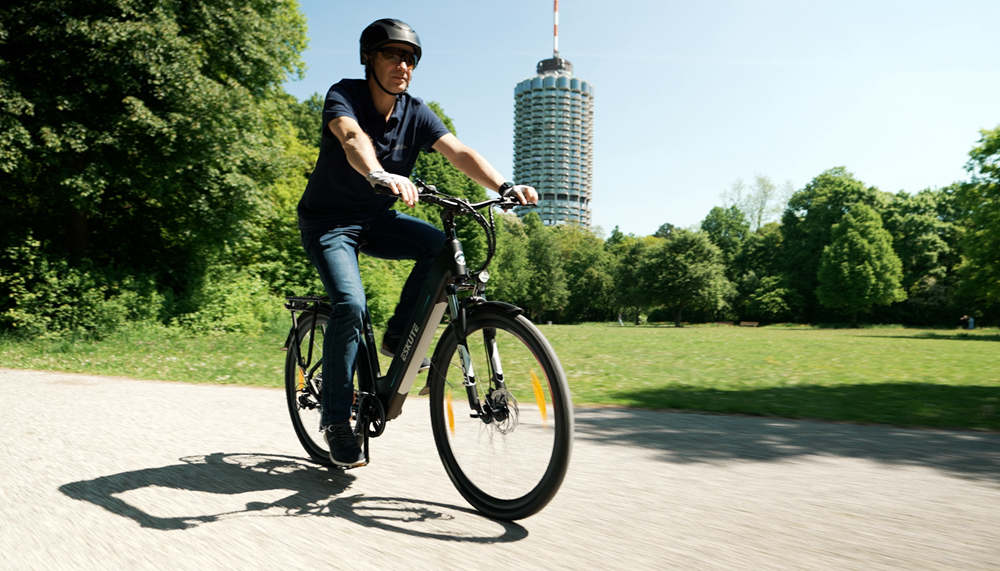 The Polluno Electric City Bike stays true to its name. It features a hub motor that can handle any city terrain and is perfect for everyday use. The bike features a contemporary step-through frame design, which maximizes safety and comfort.
It features five assist levels with a speed of 15.5 mp. You get optimal speed while staying safe with a 32 nm torque.
The Polluno Electric City Bike uses a 522Wh battery. The battery can sustain for up to 65 miles when fully charged, and there's a lock to keep it in place as you ride.
You can charge the battery on or off the bike. Thanks to the integrated smart control system, you won't have to worry about overcharging or overheating.
2.Polluno Pro Commuter Electric Bike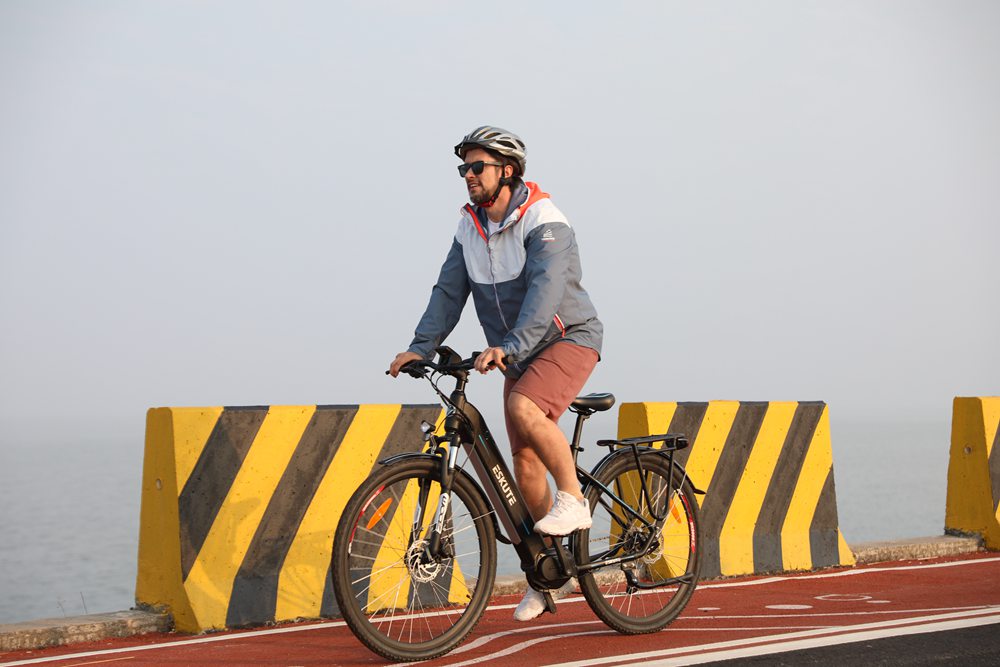 You can ride this commuter electric hybrid bike for men anywhere – village lanes, city streets, and open roads. It's a sturdy vehicle with an impressive 65 nm torque and extra power for longer travels.
As required by UK law, the max speed of the Polluno Pro is 15.5 mph. The 250W mid-drive motor ensures it glides through any terrain without much effort on your part. In addition, the bike's noiseless design is an accessory if you enjoy riding in peace.
You can travel for longer on this electric hybrid bike with the 522Wh battery. It can last up to 80 miles, and it's easy to remove from the bike for charging. It further features an integrated smart control system to avoid short-circuiting, overcharging, and overheating.
The Polluno Pro Commuter Electric Bike is an ideal electric hybrid bike for men if you're particular about safety. It has a torque sensor, speed sensor, and a smart drive management system. They ensure you don't exceed safety levels.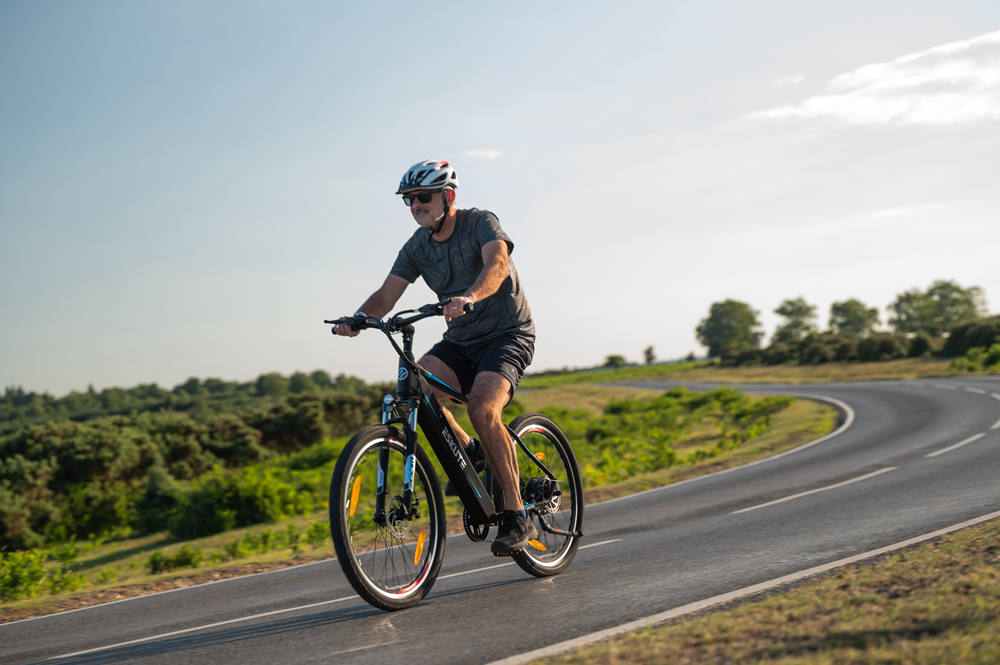 This men's hybrid electric bike is ideal for rough terrains and regular roads. It has an impressive 7-speed level and efficiently carries up to 125kg of payload.
With a 45 nm torque and 250W geared hub motor, the Netuno E-Mountain Bike is equipped to handle rocks and bumps. The long-lasting battery can last 65 miles after a full charge. It won't fall as you ride, thanks to the integrated lock.
The backlit display is one of the best features of this men's hybrid eclectic bike. It makes it easy to monitor your speed, battery level, mileage, and pedal-assistant level. Also, the backlit display has a USB port from which you can charge your smartphone.
Features a Men's Electric Hybrid Bike Should Have
When purchasing a men's electric hybrid bike, there are some specific features to consider. They include:
Multiple Assist Level
The primary purpose of getting an e-bike is the pedal assist from the electric motor. The best electric hybrid bikes for men should have at least 3 or 4 assist levels for optimal performance. The more, the better.
Depending on your terrain, you should be able to switch between assist levels. It'll help you save battery for long-range travels.
Walk Mode
In some situations, you may need to push your electric hybrid bike. Most electric hybrid bikes are relatively heavy compared to regular bikes because of their motors.
As a result, they could be challenging to push, but with Walk Mode, it'll be easier. When activated, the bike uses the motor to facilitate movement, so you'll need minimal effort to push the bike.
Sturdy Batteries
Your battery determines the range of your hybrid bike. Typically, sturdy batteries take around three to five hours to charge fully and last for 25 to 70 miles.
Large-capacity batteries also take longer to charge and offer more miles.
Security Features
A good electric hybrid bike has built-in security features to keep the rider safe. Includes lighting – to keep the bike visible when it's dark – rear-wheel locks, and battery locks, to name a few.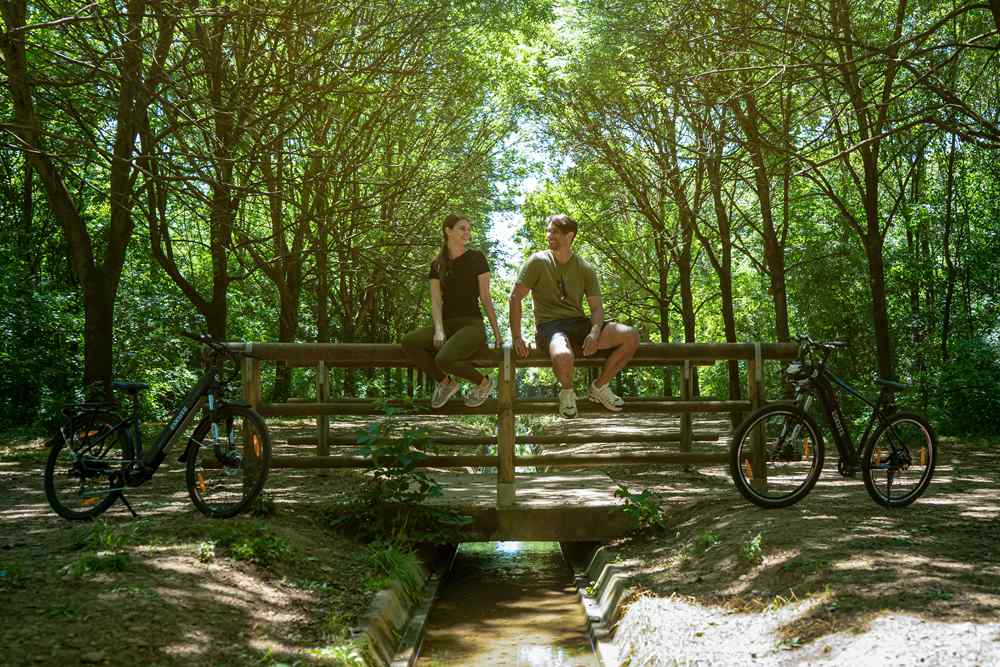 Conclusion
Electric bikes allow you to ride faster with less effort. Hybrid bikes let you ride on almost any terrain. An electric hybrid bike lets you do both.
With a men's electric hybrid bike, you get more comfort, faster speed, and better performance. However, you can only enjoy these benefits with the best bikes.
Nevertheless, purchasing the ideal bike shouldn't be much difficult. You can pick any of the best electric hybrid bikes for men listed above or check our list of best electric bikes of 2022.
With this guide, you now have all the information you need to get the best electric hybrid bike for your needs.